Haiti Journal – a week of Healing Trip in Feb 2017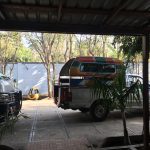 Feb 19 – Arrive in Port-au-Prince , TapTap ride to Mirebalais.  En route ate pizza at "Rooster Cafe" and enjoy a cool night at my personal cabin (boys only room).  Smells (coconut-like) and sounds (rooster-crowing) reminds me of rural India – just simple.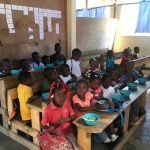 Feb 20 – 7.30 AM motorcycle taxi to school.  Helped with Edwins 1st grade class. Night walk to the river and met midwives that provide labor and delivery services in Mt. Michelle rural community.  Experience, strength and wisdom (from 65+ old midwives) meets tools, skills and practices of our western modern nursing team.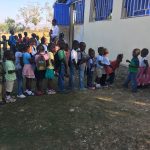 Feb 21 – 7.40 AM walk to the river and then off to school.  Heard kids sing "C'est la journee" – appropriate for a day as I become substitute teacher for the 1st grade class.  Teaching French (while learning it again) – sounds, pronunciation and then mathematique (addition et soustracion). Trod back to guest house, sleep outside on a cooler night for reflection.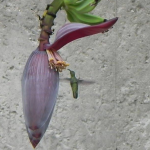 Feb 22 – Watched our daily visitor antillean mango humming bird and bananaquit (tanager) family enjoy sucre et la nutrition from the banana flower. Prayer walk through community – Haitian pastor and wife walking along side should have been our lead. Cooled off at the pool – night walk (although technically forbidden) into the market and L'Hopital Universitie.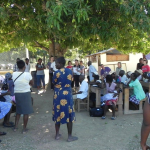 Feb 23 – Work at medical "clinique-a-la-chaotic"  (school transformed) and helped a lady (about 50) in critical care – a feeble attempt to do ER.  She passed away later that night.  Take a walk through farming grounds to watch a night heron, egret and killdeer – all oblivious to nearby chaos. Pause, reflect, pray and prepare for next day.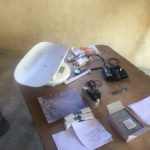 Feb 24 – "Clinique Temporarie" starts again with me doing vitals – just finished about 60+ patients before crashing at the broken school bench. Somehow swimming pool was even more refreshing.  Goat, chicken, Legume and beet salad – later at night hard to fall sleep when mind is full, stomach is full and the world is so needy!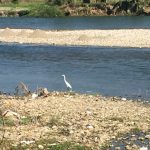 Feb 25 – Tried a short "randonee a al riviere" before travel back.  Some shopping and a fancy lunch bouillon cabrit (Goat stew) at a restaurant cum shopping center near Port-au-Prince airport.  "Au Revoir" – yes literally see you again Haiti! I will pray for you and will miss you.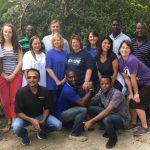 Thanks to my great team and everyone at "Go Be Love" – organizing, praying, sending and watching!