Our whole family forged a trip this summer to Scotland. The summer trip would be one way to spend time as a family together before Kiran and Rajiv headed off to college. Like every other American tourist we planned our trip with a rental car and a great deal of ambitious plans of things to do when in Edinburgh (pronounced ed-in-bruh ) and nearby. After the red-eye flight, we arrived in Edinburgh ready to drive a stick shift car on the other side of the road. The driving in narrow streets, with bus lanes and people crossing, took all five of us having to do some part of the driving. Kiran looking at my GPS, Rajiv watching the cars on the blind zone, Erica watching the right side curb and Pori looking straight ahead!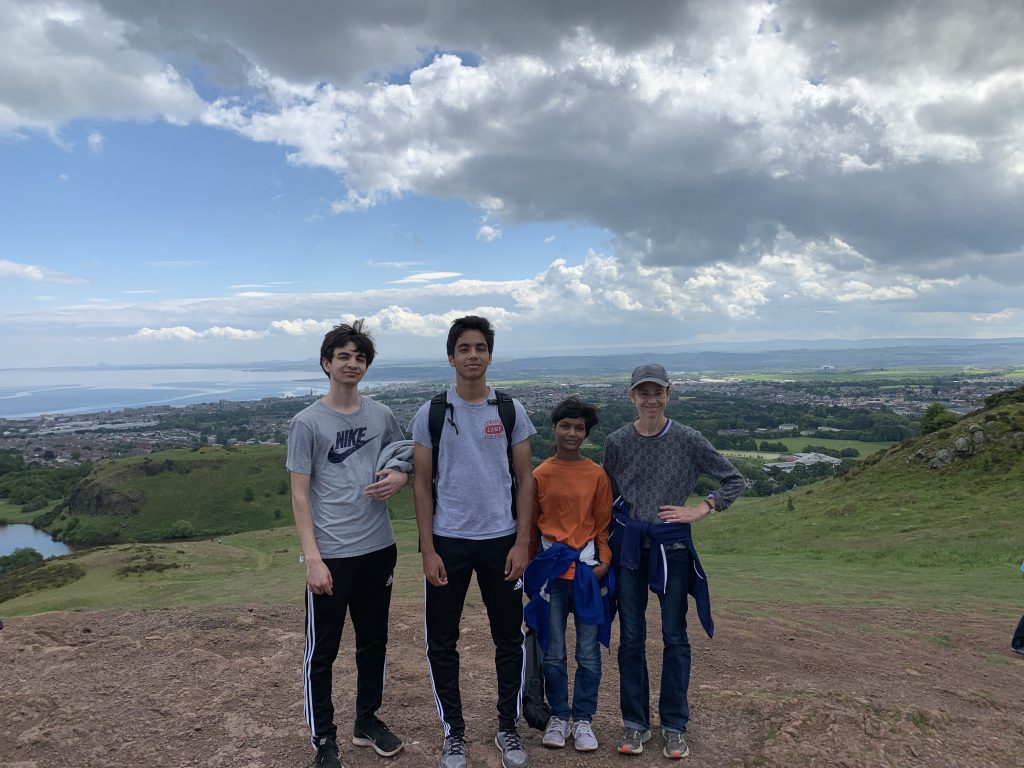 Our first day we headed over to Holyrood park in an attempt to keep us all alert and adjust to the time change. The brief climb to Arthur's seat already gave us many good sighting from green pasture lands to Iron-Age forts , chapels and ruins that managed to keep us awake. Kiran managed to catch some good photography of the Scottish parliament and Calton Hill from a viewpoint along with some close shots of a magpie. The 18-hour sunlight in Edinburgh made it a bit confusing for our bodies and it continued to trick us to stay up later at night through the whole trip.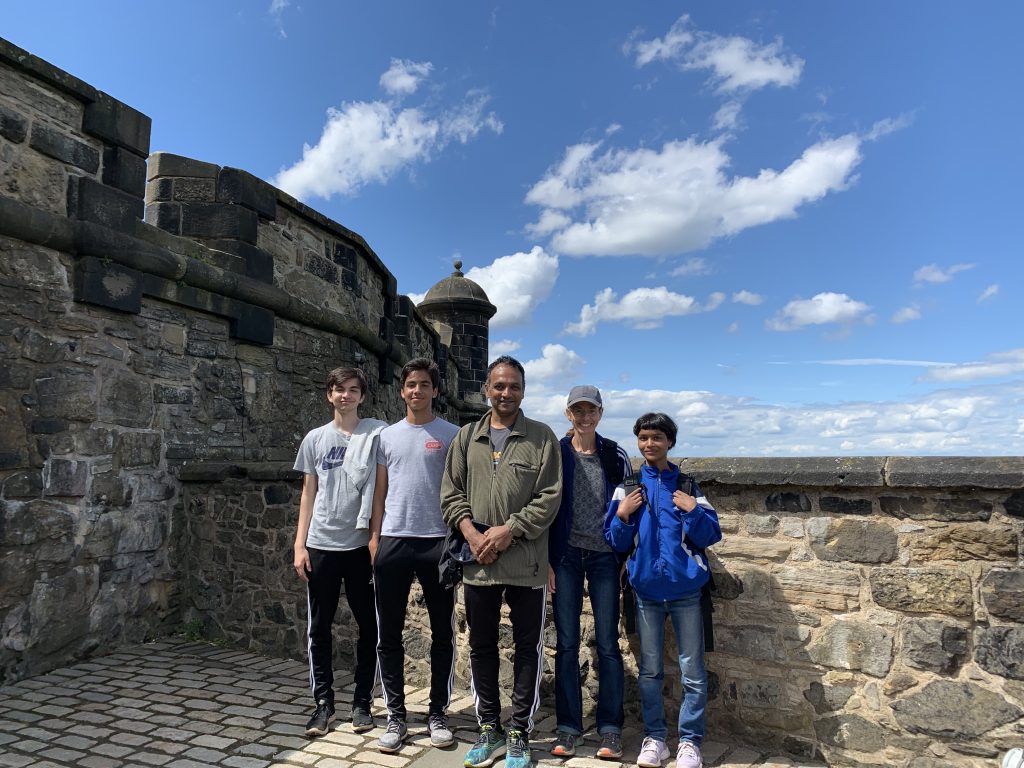 Our second day in Edinburgh started with a more thorough hike of the Arthur's seat exploring almost 9 miles of the trails leading us to the Edinburgh Castle. Our walk through the Royal-mile helped us catch glimpse of exciting crafts, cafes, distilleries, monuments, and galleries. Edinburgh castle on Castle Hill was a bit more commercialized than we had expected. Our later visits to other castles sort of proved that. Nevertheless it was filled with rich history and many fascinating chapels, prayer rooms, tea rooms that was filled with Scottish history. My favorite was the little chapel called St. Margaret's Chapel with its High Middle-Age's stain glass work, and a small prayer book preserved behind a glass display case. We found a nice little restaurant close to Leith's (where we were staying) to try some of the local food like haggis (sheep's discarded parts!) , neeps (turnips) and tatties (mashed potatoes).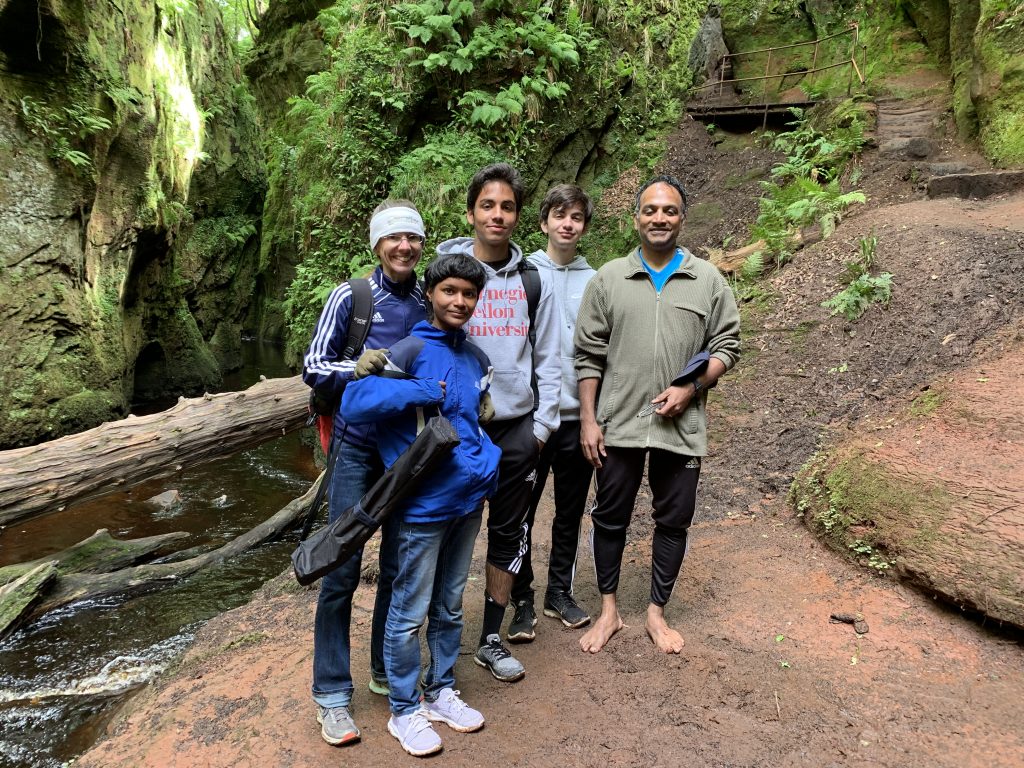 Our next destination was Glasgow with a plan for a short stop at Devil's pulpit – natural gorge in Finnich Glen Stirling area. However Devil's pulpit took longer to enjoy due to its unique geology of red colored sandstones and its own ecology. Chasing the sightings of wagtail flycatcher birds along the secluded stream kept us from leaving Finnich Glen abruptly. Glasgow was more of a city with less tourist, and residents seem to be more of working immigrant population. While in Glasgow we came across some fascinating historic sites as well. We stumbled upon an elaborate grave for John Knox author of the Scottish Reformation. In the UK, we had to do a "Fish & Chips" dinner near downtown Glasgow to finish visit to the metropolitan.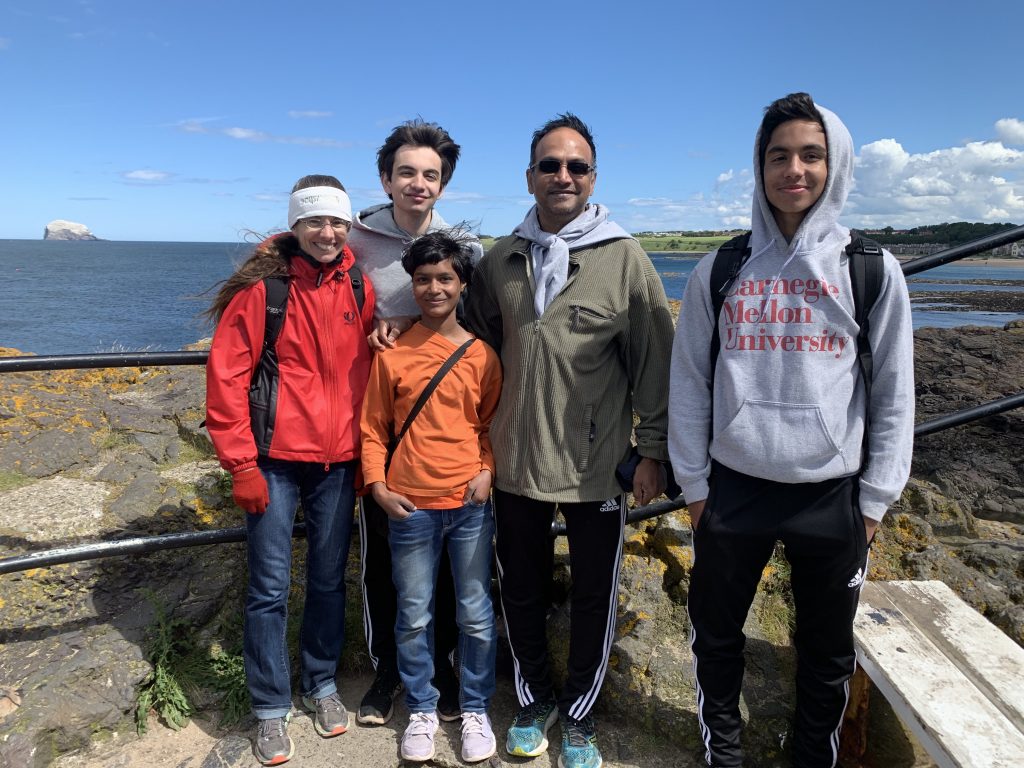 In an attempt to explore the beaches along North Sea, we started a hike from Yellow Craig beach to North Berwick cutting through some pine forest, beaches and a few farmlands to explore along the way. The beach walk was still cold even in mid-June with a cold breeze – would not want to try this in winter. We caught view of a few glimpses of a number of seas birds like Gannet, Gull and Shag but did not see the elusive Puffins from our view point. The hike took us through some of the golf course and eventually into the Seabird Center to be able to see Bass Rock and the flocking of thousands of gannets on the steep volcanic rock.
Pentland Hills regional park is a "working" park with sheep farming, forestry, and several water reservoirs with fishing opportunities as well as providing water to Edinburgh. We were hoping to spot some wildlife along with the farming sheep in the hike. The hike was spectacular with a few unexpected sightings of ancient stone ruins and solitary tombstones along the way. We also caught glimpse of a roe deer feeding near Castlelaw hill.
Finally the castle day had come! Kiran spent the night before trying to plan our visit to a few castles near Edinburgh – hopefully less known and more untouched ones. This was surely a treat for us as we got to rush through and see three most beautiful castles. For Erica, the sightings of the castle were also revival of scenes from her some recent books by Philippa Gregory on the Plantagenet and Tudor novels. We started with a visit to CraigMiller Castle, followed by Dirleton Castle and finishing the visit with the most exciting Tantallon Castle. We did not have enough time to explore each one of these castle ruins – each turn in the castle revealed rich history, unique architecture, special doocots (pigeon house) and exquisite dining rooms. We had to be escorted out of Tantallon castle with an echoing "C-lo-sing C-lo-sing" call which has remained a "resounding" experience to leave the much besieged yet surviving castle along the waters of the North Sea.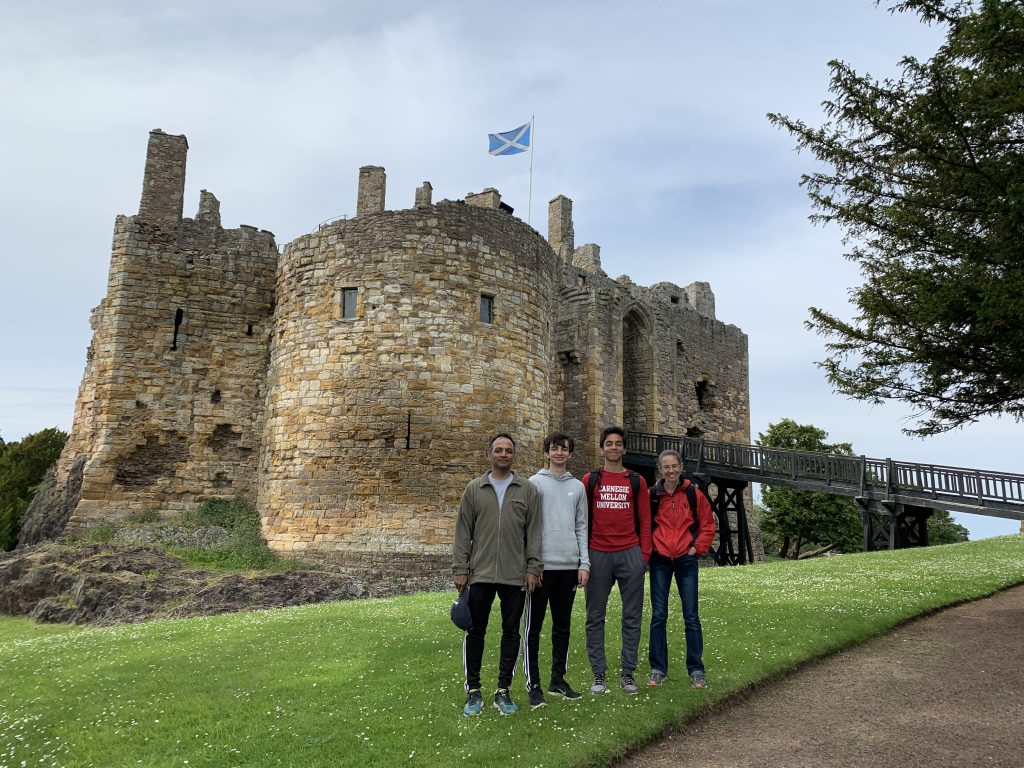 The visit to Scotland was most memorable for our family as it comes in a special time before our kids Rajiv and Kiran both head off the college – almost creating an empty-nester feeling at home. The driving on the other side of the road, searching for simple things like grocery store, fast food etc. were all not seen as inconvenient when enjoying such an interesting and exciting country as Scotland.