We made it again to Costa Rica again after 5 years, this time without my wife (Erica) and my daughter(Pori). Our last trip in April 2017 did not include a beach visit, as it was just a lot to squeeze in. This time I had the excuse of my son Kiran starting his internship at the Wild Sun Rescue as a pre-vet summer intern. The trip highlights have mostly to do with forest and less of the beach than I had thought, nevertheless Costa Rica continues to amaze me at its bio-diversity and beauty.
Classic Interruptions
As in every trip to Central or South America, we somehow end up with events that interrupt or change our course, it is also never the same thing every time. After an uneventful flight and a smooth landing, there was more pleasant news as the flight crew announced that masks no longer needed in Costa Rica. The passengers were in unanimous applause of approval on being freed from their cocoons. We made our way through immigration, in spite of the long line, it was good to know that no forms are needed to walk through the immigration and customs any longer in San Jose SJO Airport.
The surprise was at the car rental Avis – NO it is not the rental insurance which I was prepared from my past experience to pay and get. It was a long wait at the car rental of almost 2 hours. This made it really hard to know if I can catch the Ferry from Punta Arenas to Paquera (or Naranjo) to reach our planned destination Cabuya – a remote small town almost southwestern tip of Nicoya peninsula.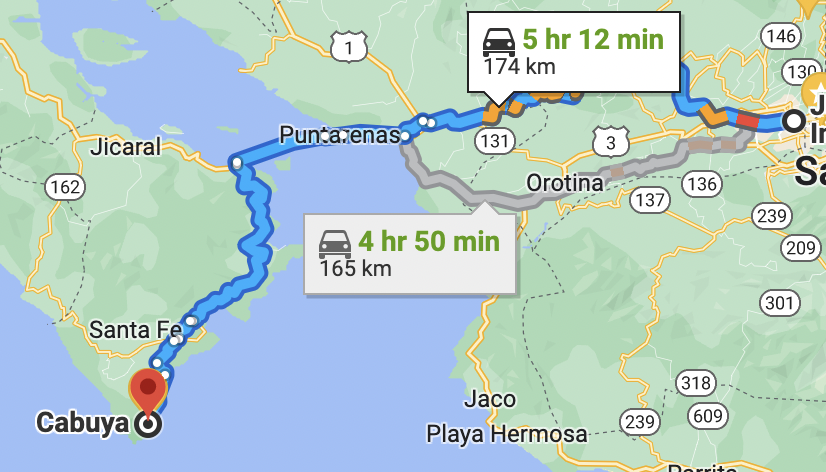 I had planned our drive for 2 hours to reach the ferry site at 5:30pm, but it was already 4:30pm when we left the car rental place after almost 2 hours of the "car rental experience". I made things a little worse by picking the "no-toll" option accidentally on Google Maps, making this journey another
hour more through cloud forest of up and down hills of really slow road. With some luck we ended up catching the last ferry to Naranjo at 6:30pm. We had been in journey since about 6:30 AM from Washington DC, with really meager food provided by our dear American Airlines.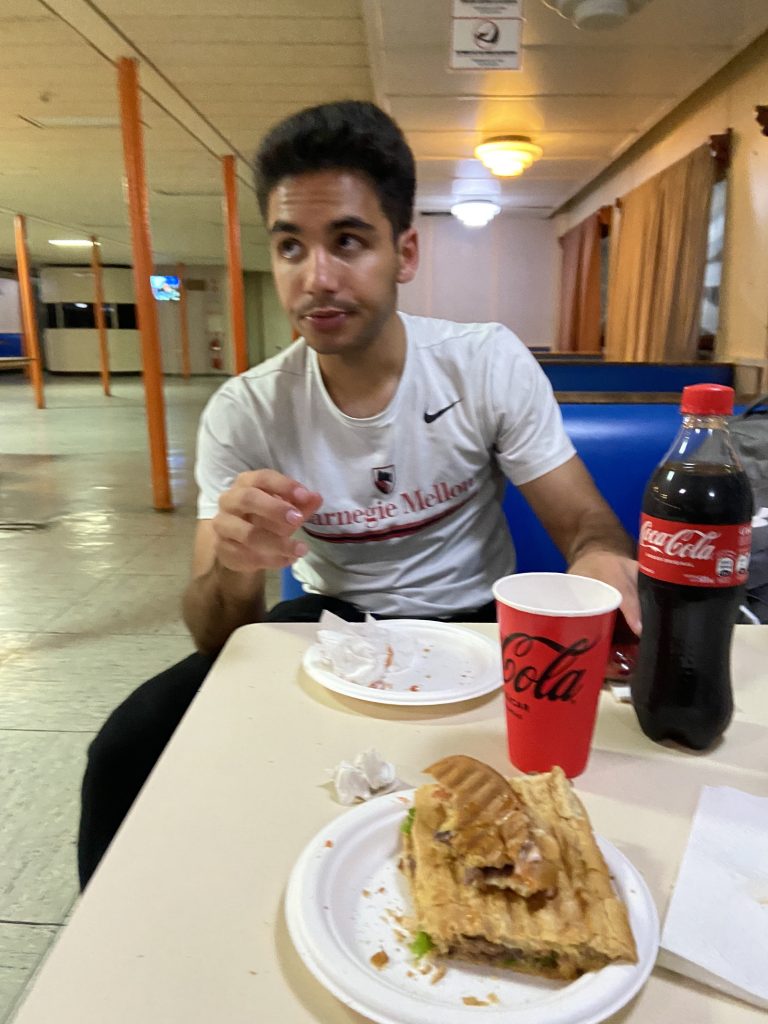 So all hungry and tired we got to the ferry and managed to order some sandwiches with Carnitas (pulled-pork) with a few Colones (Costa-Rican currency), we exchanged at a Gas Station. Finally we arrived in Cabuya at about 9:30pm or so quite tired and ready to crash. Rajiv was pretty much off schedule with sleeping only for a few hours the night before. All three of us slept well that night after taking showers in our really nice hotel that basically was on the beach facing Gulf of Nicoya.

Jungle Sounds of Cabo Blanco
The area we ended up staying was close to a nature preserve called Cabo Blanco. This nature preserve was well isolated from typical tourist spots in Costa Rica. The hotel was located not far from where Gulf of Nicoya meets the Pacific Ocean – a scenic quite area of western Punta Arenas. As we walked along the rocky beach, our first greetings were the clickety-clack-tic-tic sounds of hundreds of hermit crabs that were trotting along the rocky ocean terrain between our hotel and the to the Cemetery island Cementario. There were in fact so many hermit crabs that we were not even able to find any empty snail shells that were not already occupied. The hermit crabs were of all different sizes and clumsily walked along this rocky beach, picking on anything they could eat along the way – dead fish, fallen coconut, ripe mangoes.
The other sound (a bit more eerie) was the far-way sounds of ho-ho-his-his-hi of the howler monkeys. The forest created a strange bass echo effect of this sound making it sound a bit like the noise from the the Lord of The Rings movie as the "Cave Troll" met the haggard hobbits. We would hear it often and wondered how close was the Atelid, finally we figured they were mostly farther away.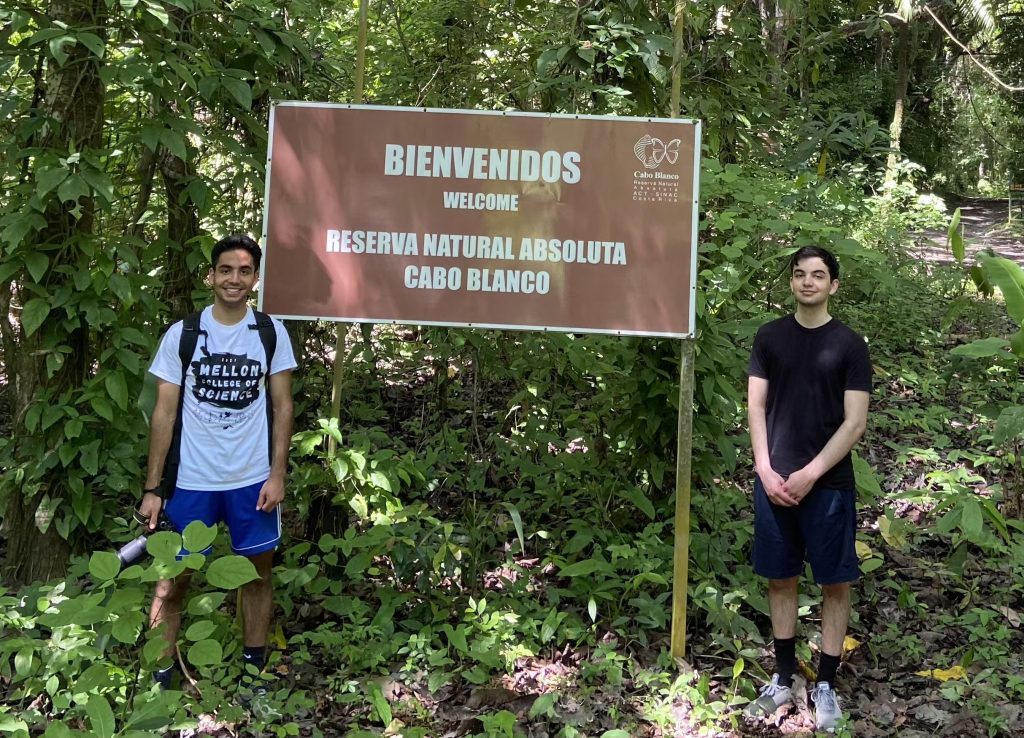 Our stop at the reserve was mostly wanderings with a few sightings of animals on the first day. The forest was alive with birds of so many kinds. The Scarlet Macaws were the loudest that we could see fly over in small groups with their loud, distinct calls to their bright-colored partners and friends.
We enjoyed a good dinner the first night at our Cabuya Lodge with fresh fish (which was true almost every meal) and a good portion of local favorites like fried plantain, Sopa Negra (Black Bean Soup) – generally called a Casado – a basically a pun for a grown man's meal. The picture is a similar meal we had at Montezuma the next day.
The Fishing Village of Montezuma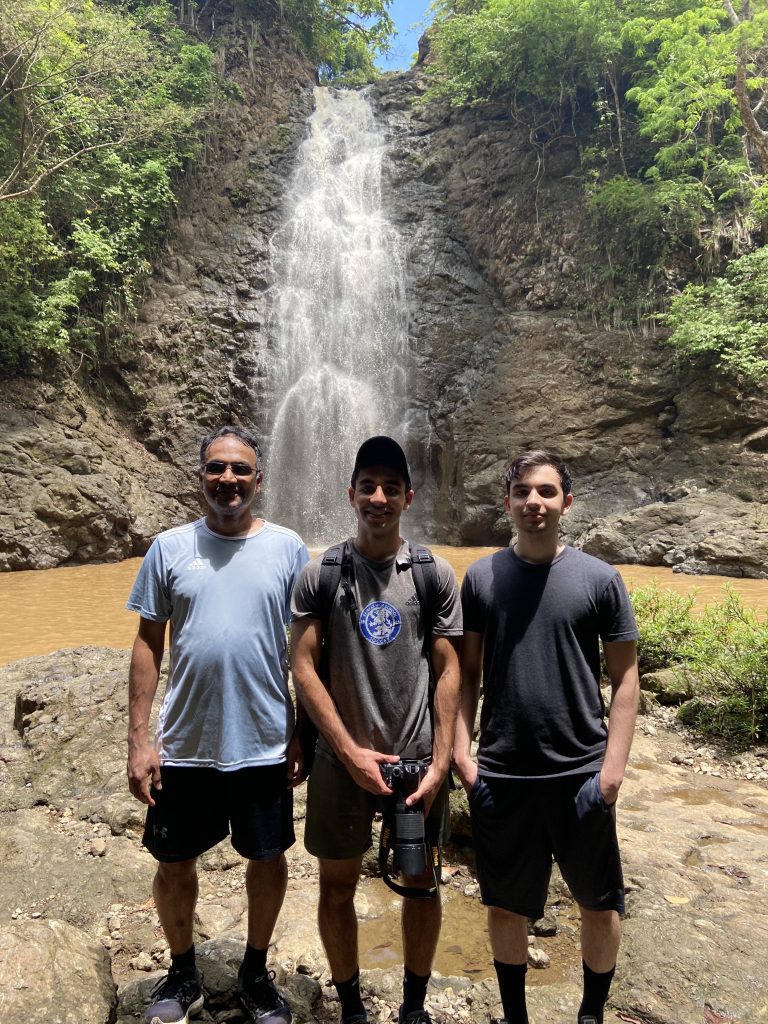 After being a little less worn out from driving on dirt roads, I took up the adventurous 6 mile drive to head to Montezuma (about 30 minutes of bumpy ride). Montezuma, an ancient fishing village, has now become a quiet paradise for tourists willing to venture into more remote areas of Costa Rica. Montezuma Falls was a fun hike with a number of unexpected crossings and maneuvers to get access to a number of small ponds that collect water from a varying sizes of waterfalls from 20-100 feet high. The small ponds were about the size of a swimming pool. We visited two such pools and their quaint waterfalls.
After dropping Kiran off at the WildSun animal rescue center, Rajiv and I got to do a bit more relaxed walks along the Montezuma beach just catching up talking about our jobs and our recent events at home in the US. This is one of the benefits of being away from home, to sort of look from the outside at our daily "happenings". Although this trip was short it was a good getaway while believing we actually helped Kiran get established for his month in Costa Rica.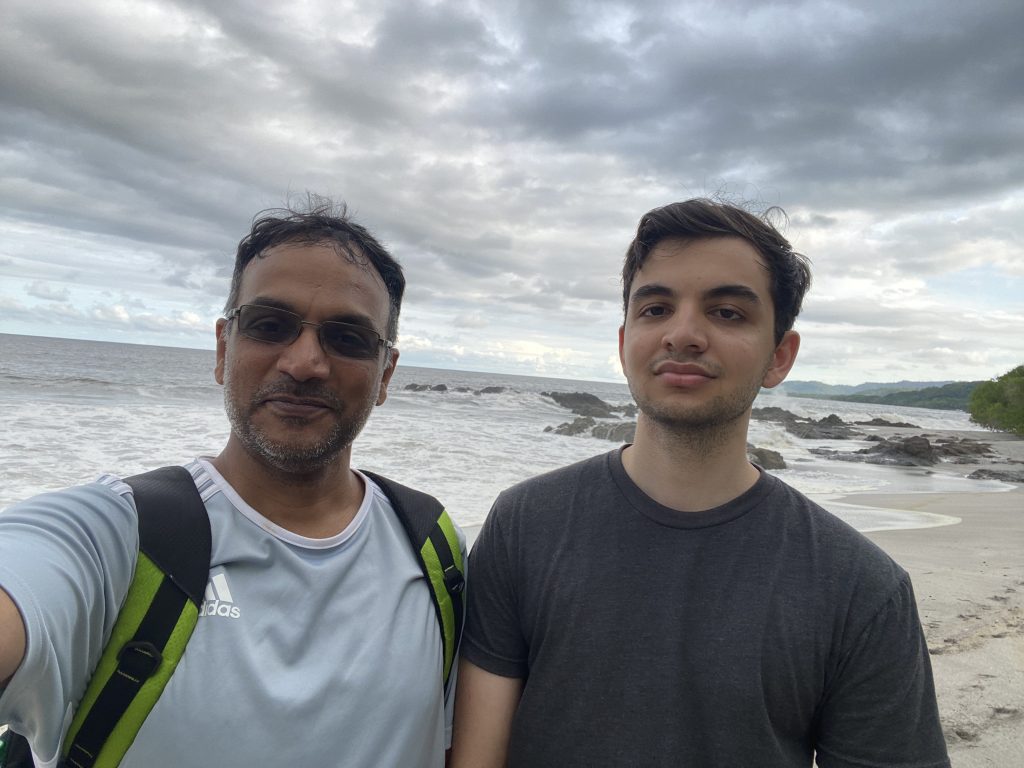 Rajiv and I finally got our last travel rituals all completed and this time took the road-more-traveled (tolled highway through western Costa Rica) to make our way back to the airport and then our flight back to the US landing at Charlotte. I was surprised to find that Charlotte airport's immigration and customs was a breeze walk through with less hassle.
The CLT airport has a "Brookwood Farms Carolina Pit Barbecue" (a southern favorite as I remember) that made us feel like we were back home real fast. So here we finish with another Pura Vida!
"Everybody needs a little vacation, a little holiday
I'm gonna take a little vacation, I'm gonna get away"
– a song from Tiny Little Planet