"Such a wild, iron-bound coast – with such an ocean-view as I had not yet seen – and such battling of waves with rocks as I had ever imagined" – Charlotte Bronte
This was my first trip to Ireland to attend the 34th FIRST Annual Conference at Dublin, Ireland. I assumed the Emerald Isle to be much like Scotland, I found it to be so only in some ways. This Island Country with its winsome narrow streets, cobblestone roads had so much to enjoy. You either saw a Church or a Castle on the streets separated by large grasslands enjoying the daily switch between sunlight and rain.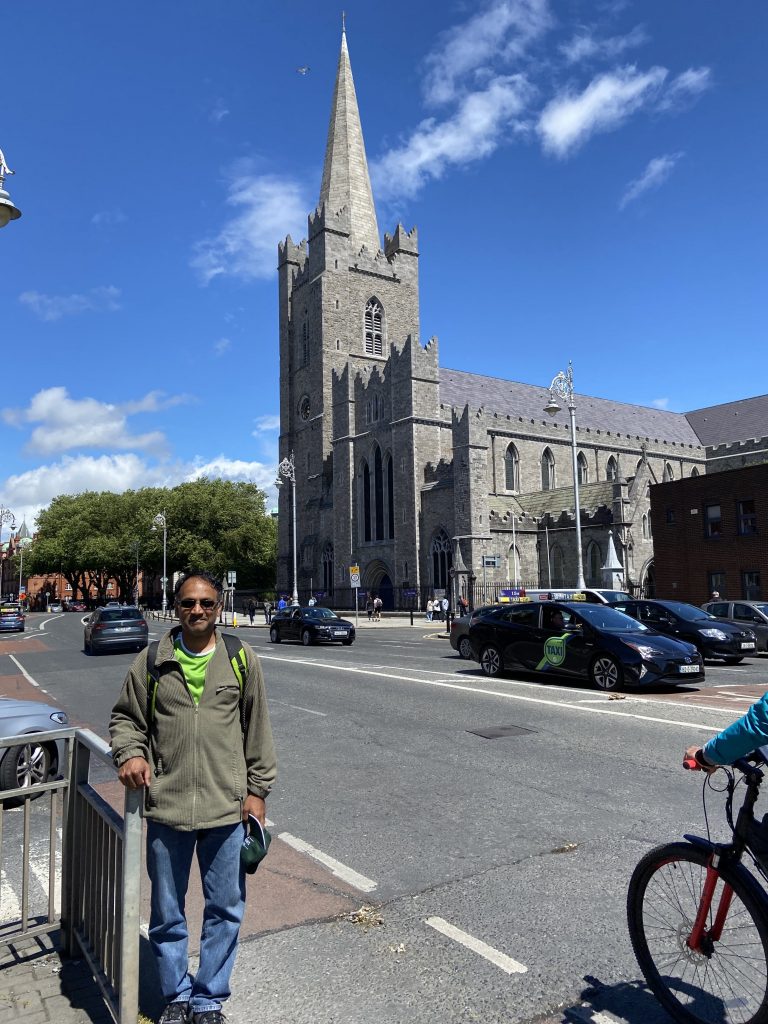 On arriving in Dublin after the red-eye flights, was a direct visit to Guinness Storehouse with only a short stop at the hotel to drop off my stuff. My attempt to stay awake all day so I can transition to the new timezone was somewhat successful. The day was almost exhausted with infoxication on Guinness Beer making and I had only a little time to visit St. Patrick's Cathedral. It felt more like a sleepwalk as I trotted along the River Liffey back to my hotel. So went the first day and the night
Monday Night Fútbol and Sláinte with night Goblins
The FIRST conference was off to a start where we, the audience, heard of some overwhelming work ahead of the international community in protecting children from an ever increasing Internet based crime networks. My Monday was filled with a lot of action, peaking off with a sponsor organized soccer game that lasted about 2 hours starting at 8:00 pm. For Dublin however,the night was not quite over yet. After we were dropped off at the Dublin Conference center, we marched on to our next adventure to find food and look into some nightlife of Dublin.
| | |
| --- | --- |
| In front of Beckett Bridge lighting | |
Monday Night Futbal
Being led by the fearless Nicole Daňková, the international crew of about five of us set off on foot along River Lifey, visiting the famous Temple Bar, grabbing authentic Chinese food (as true as China Town in New York) and wandering (sometimes gawking) at every bridge, building, gargoyles and statues. It was strange to see so many young teenage girls probably below 15 wandering the streets safely – perhaps the leprechauns and the genii locorum still provide their solemn protection to these wanderers. We, as tourists, also felt a welcome spirit despite our awkward questions to the locals.
Grafton Street's Busking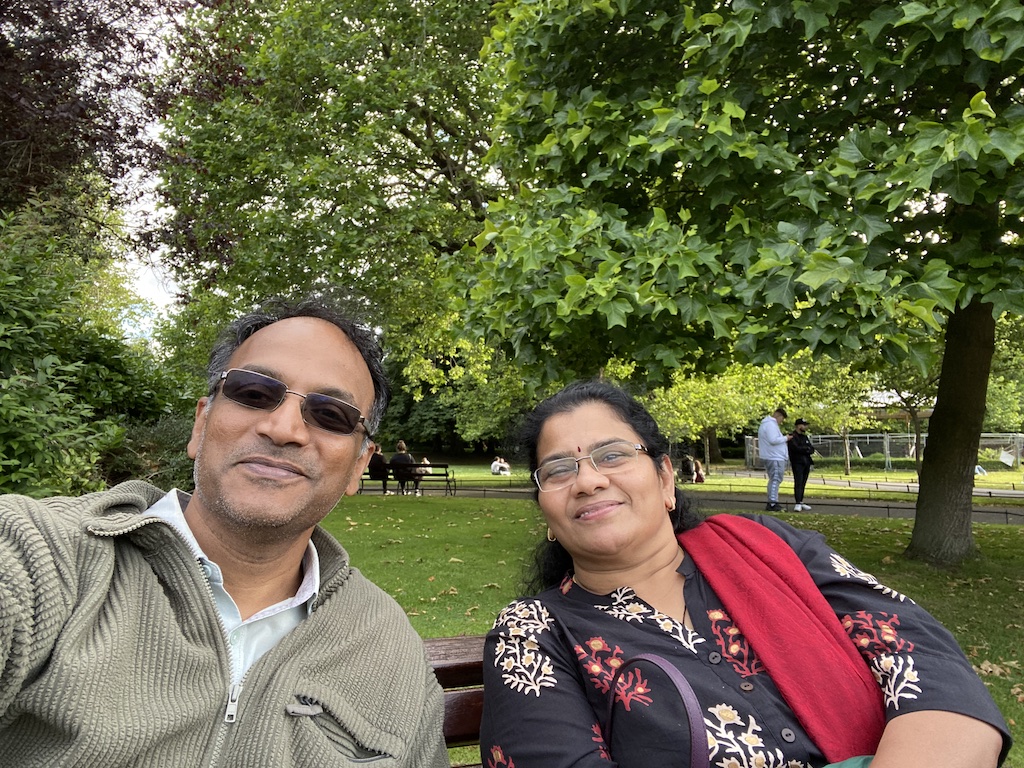 I took the opportunity one evening to try to catch-up with my college classmate who has been living in Dublin for 19 years or so. Meeting Poornima at Grafton Street, we got to watch all the busking entertainment and shopping frenzy by locals and tourist at this enigmatic juncture. The narrow streets around this area has every possible intersection from three-leg, four-leg, multileg, and roundabouts, all seem to lead you round-and-round into never-ending loops, unlike Rome where every street was designed around a destination.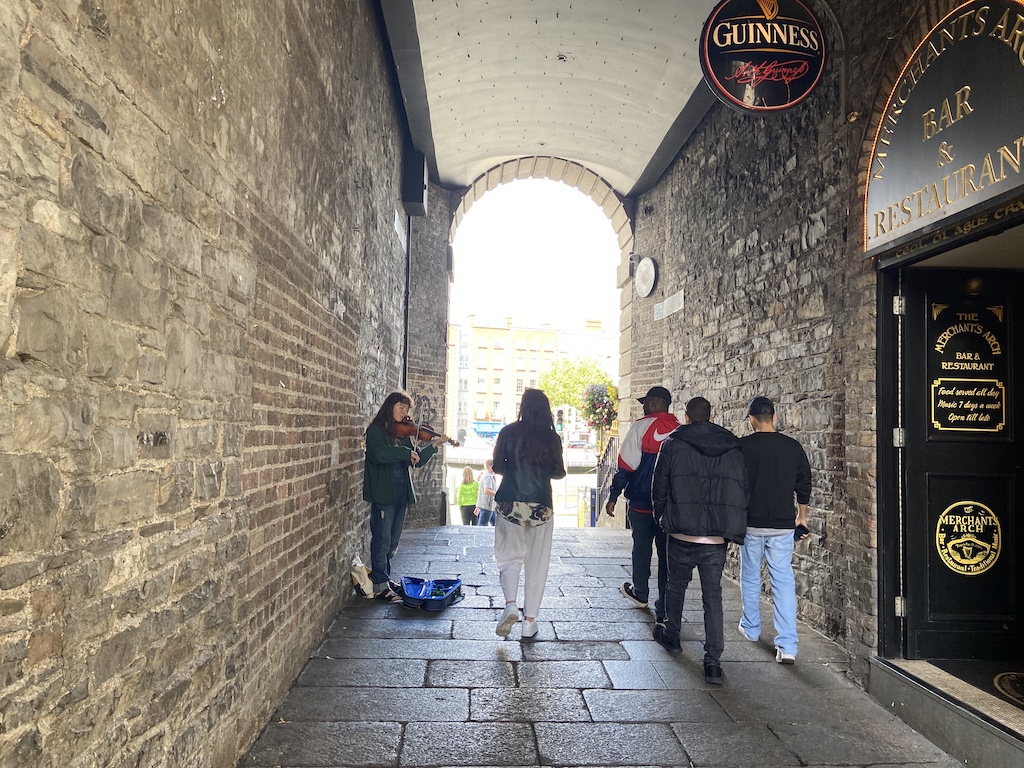 There is also plenty of spots to stop and try some whiskey (Uisce beatha – the local "water of life" as it is known) and beer (Beoir) tasting the flavors you may have never imagined. I also found a stop to try Bailey's Irish Cream – which I got introduced as "Ye can dink it huht or culd ar an'time o'de day" because it is made "finely from d'em localz cowz that grraze all day on our gr..reen lands."
A tribute to Art
Every now and then a work-trip ends up with an unplanned one-on-one time with a colleague. This time it was with Art – a walk to the Ireland Castle, known in Gaelic as Caisleán Bhaile Átha Cliath. Art shared about his intent to leave current work at Carnegie Mellon to venture into a new job carrying his 20+ years of passionate work into another realm. Art is an enigmatic character with a passion for Cybersecurity, that I share only occasionally buoyed up by his passion. My own eyes have been more on the software architecture, perhaps in a belief that it holds answers for a more reliable software applications for our brave new worlds.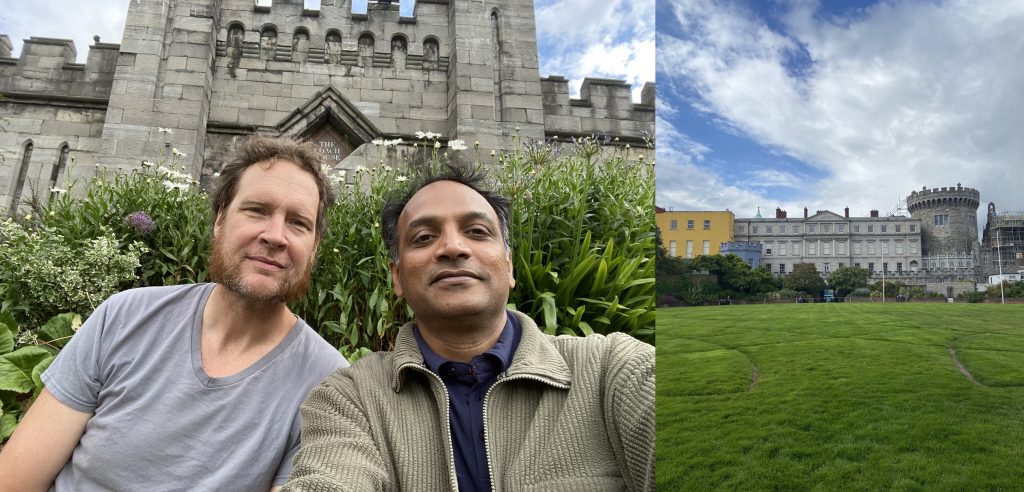 A little view of the Castle turned into Irish government complex, conference center, and tourist attraction, just off Dame Street in Dublin.
We shared thoughts on our work reminiscing, catching glimpses on his achievements and our combined work of merely two years that had looked promising. Now both him and I will be stepping into another spot on the map of our career life though distinct spots on it from each other attempting to navigate it.
Return to the Promised Land
Every time on my return flight from a trip, for work or for vacation, I sort of become meditative on what this trip was about. On this flight, as it curved around Ireland, just like the Gannets that hover over the smaller Irish abandoned Islands to the west, I thought of early migration of Irish and others especially to the US.
So we took off leaving behind a millennium old British Isles into the large Atlantic, marked by the Scots and Irish as "Here Be Dragons" (hic sunt dracones) in their maps for the unexplored territories. As Irish traveled west they built Beehive Huts for dwelling on several small Islands, until the waterways made it possible to reach the Promised Land of the Americas. Irish brought more than their whiskey, poetry, dance and laughter – just a spirited life that conquers odds. After all, were not the sign "Here Be Dragons" an invitation at least for some? Now will be the time to descant with the Irish "Auld Lang Syne" to bid farewell to the past and be inspired for the journey ahead, as another path unfolds.