It seems unlikely for an American traveler to have experienced the hospitality and cheerfulness found in Côte d'Ivoire.  Ivory Coast is a country tucked in west Africa sharing the Gulf of Guinea's beautiful shores with a number of west African neighbors. I got an opportunity to serve along with CERT's international team to work to support efforts of this growing African nation in building a secure Internet.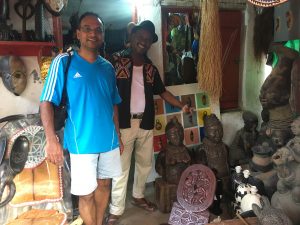 The travel began with our flight into Abidjan, the economic capital of Cote d'Ivoire . On Sunday, a short exploration into the local market "Akwaba" (meaning welcome in twi a local African language) helped me find local crafts and some beautiful artwork for both Côte d'Ivoire and neighboring countries like Ghana.
I also got to travel into Grand Bassam beach and enjoy some local snacks like "Coco Rapi" sold by young entrepreneurs, like this energetic girl in the picture.  The beach was packed with people and many skillful kids playing soccer in the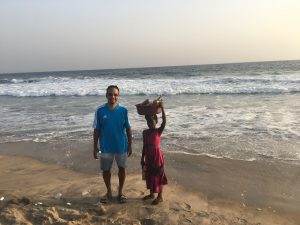 sand.  The weather was still pleasant and not too hot or humid as we walked around and try to catch the local vibe and culture.
Our work week started with a very cordial invitation and a commencement ceremony from some very important officials in Cote D'Ivoire ministry of telecommunications. The hospitality and enthusiasm shown by the team was truly inspiring.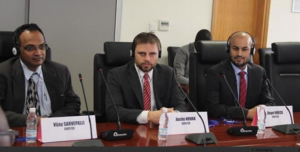 Most of the work week involved group discussions  and working sessions on the topic of DDOS prevention and Botnets.  I was surprised by the long introduction and the support from both the US and Ivory Coast personnel for our work and the amount of organizing that was done ahead of our visit to get an active team together.  Picture courtesy of Angel along with Angel Hueca and Justin Novak my colleagues at CERT.
By Wednesday it was time to enjoy dining at a local restaurant some influenced local cuisine and a local "enjailler" (enjoy) and Blè blè (sit, calm down, small talk).  I enjoyed the local "fisherman's bowl" along with Kedjenou (seasoned meat with vegetables) and Alloco (fried plantains).  Although the next day was a bit of a drag as my stomach tried to adjust to all the local flavors!
T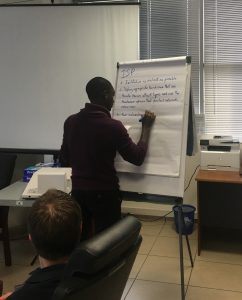 he last two days proved to be more exciting than I expected.  Along with the translators we got very involved in filling up a number of post-it boards with ideas and innovative work that will impact the Internet usage in the fast developing Ivory Coast Internet economy.
I totally enjoyed the enthusiasm of the group and all the fun questions, even the ones that were a bit lost in translation.  The setup proved to be very effective ways for us to exchange information and serve larger needs and long-term goals of Ivory Coast.
It was time to say goodbye while getting the last chance to stop at a local mall where I could not resist buying a mango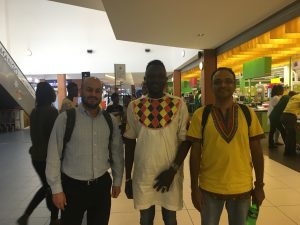 milkshake powder, only to find out it was actually made in Lebanon! All this experience of local travel was faciliated by an excellent driver we had called Abou! There is a picture of us with Abou at the mall before I took flight out of the country.
After a bit of drama with Air France and flight cancellations I made it home safe with an extra day stop over in Paris.  Yes, of course I got on the RER to visit Paris downtown had a  pancake and did a quick stop at Carefour before hurrying back to my flight back to the US.