Our family decided to make "Let's go to San Francisco" our 2018 spring-break adventure like the 1960's song from the British pop group The Flower Pot Men.  The plan was to mix up both city strolling and wilderness hikes for this trip into the Bay Area.  It was our plan to do this before we got into the years when spring breaks for our kids will be like looking for star-aligning!.  Rajiv heads to college coming fall,  Kiran will be a high school senior, Pori will be in 8th grade.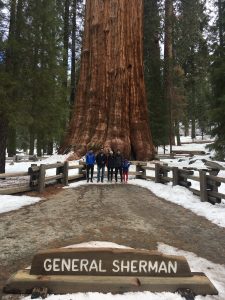 After surviving the flight and a night of rest, we started out for the  4-hour drive into Sequoia National Park, planning to stay in an Airbnb cabin near the park (Three Rivers CA). The drive was beautiful with its rolling hills,  quaint farmlands, green pastures with sheep and cows.
Our first day started with a crisp and cool morning at Sequoia National Park where we drove into this almost "Narnia" looking forest with its incredible Sequoia trees and its clean mountainous air. We had to visit the General Sherman tree along with all the different towering trees. In a few minutes, sky turned dark and soon started blanketing our path with beautiful snow.
The drive back to Three Rivers was a bit more distracting as we saw cars struggling to make it up the mountain in a quick turn of events.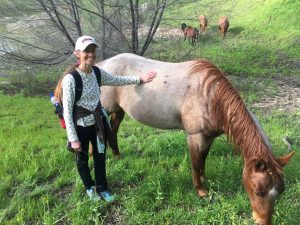 Our SUV,  four-wheel drive to take us back safe into our warm and cozy house. The weather down below at Three Rivers was entirely different with its lush green space.   Erica and Pori got close enough to a horse in the Three Rivers trail and got to pet one each.  After an attempted drive to get to King's Canyon in the snow, we turned around due to heavy snow and slippery road conditions. 

The airbnb place we stayed in Three Rivers was nice and have plenty of woods nearby along with turkeys wandering about from the neighbor's farm.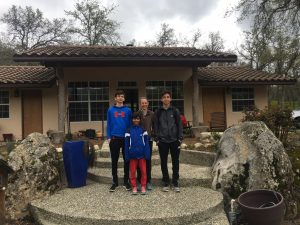 The drive to San Francisco through CA-99 was more busy than we expected and a stop at a nearby gas station showed the weather was entirely different in Fresno and Madera compare to the protected national parks with their fresh air and higher elevation.
A little different from our plans to enjoy Frisco's city life, we actually ended up in multiple trails viewing the Golden Gate bridge and enjoying the Muir woods redwood trees.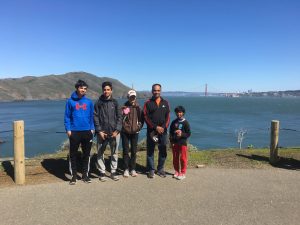 Kiran took some great pictures of birds (Anna's humming bird, California Gull) and even a ring-necked snake.  His new pictures were a sunset on the Golden Gate bridge and some spectacular views of the trees in every park. Overall our family had a great time at this trip and Erica is prepared to fly once again so we can get another vacation covering Yosemite and perhaps another trip to King's Canyon!